Top 10 Must Have Cool WordPress site Plugins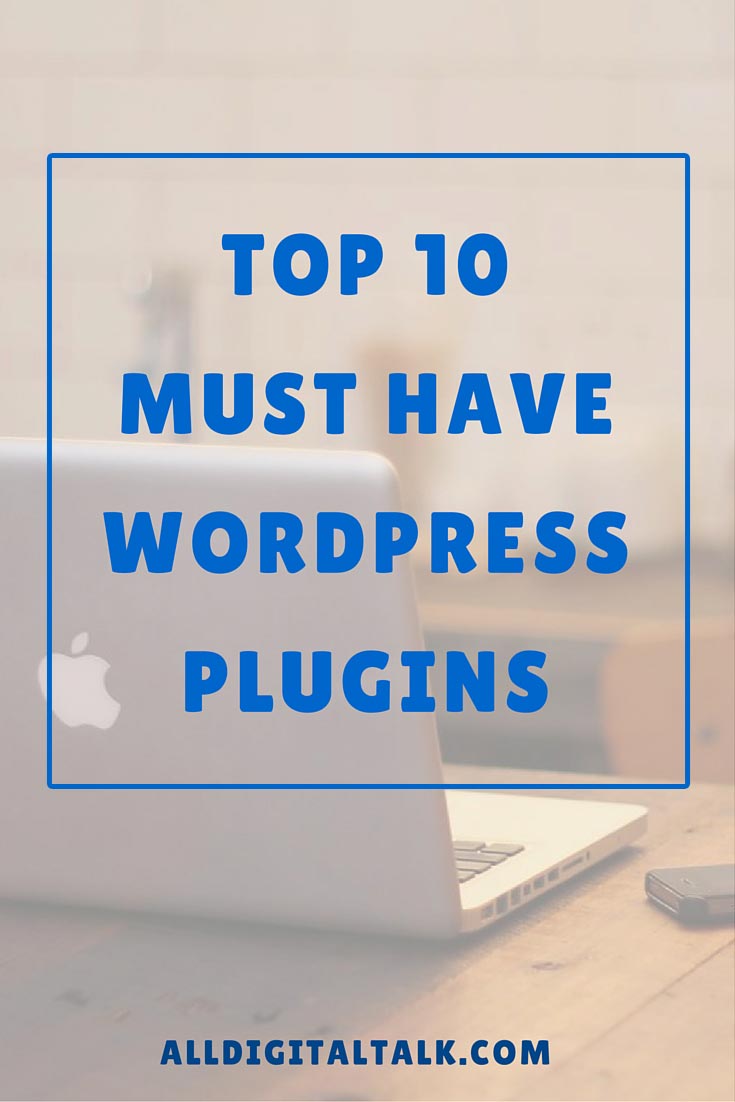 Are you looking to start your own WordPress site? (Or already have one).
At the start, you need more help, as even if you are a skilled programmer, you need to concentrate on different aspects of a WordPress site. Like, create quality content, market it, create products, and much more.
You will be wearing many hats and will be responsible for the success of your new WordPress site or blog. This is where you feel the need for an additional hand of help in completing your daily tasks.
Having gone through this, I suggest you can get the help you need with WordPress Plugins.
Which plugins to use?
Cool WordPress site Plugins
You don't want to waste your time going through a long list of plugins and choose the right one. To make your job a bit easier, I have hand-picked WordPress plugins used by WordPress Experts.
Now let's dive in, and have a look at the top 10 must-have Cool WP Plugins.
      WordPress SEO by Yoast WordPress
 SEO by Yoast is one of the best SEO plugins and is very useful for the SEO optimization of your content. In fact, Yoast is more than just an SEO plugin, it has many features like page analysis, meta and link elements, XML sitemaps, edit your .htaccess and robot.txt file,  and many more. This plugin helps you write better content, it makes you choose a focus keyword and makes sure that you use this keyword in your page title, article heading, page URL, content, and meta description. And most of its key features are available with the free version of the plugin.
W3 Total Cache



Your WordPress site speed is one of the important factors which Google considers while ranking your page on the google search engine. Fast loading sites provide a better user experience and produce higher conversion rates.W3 Total Cache is a widely trusted plugin, this plugin improves your site performance 10x times your existing WordPress site performance. Notable features of this plugin are reduced page load times, browser caching, improved server performance, bandwidth savings with minify, and HTTP compression of HTML, CSS, Javascript, and feeds. This plugin allows you to set up a content delivery network for your static files. The combination of W3 Total Cache and a CDN (content delivery network) makes your site load faster. Refer to the detailed guide to install and setup w3 total cache with CDN service. (http://www.wpbeginner.com/plugins/how-to-install-and-setup-w3-total-cache-for-beginners/)
BackupBuddy


At any point in time, it's best you have the latest backup of your WordPress site available. You need to protect your online presence from hackers or breaking your WordPress site due to some database error.BackupBuddy is one of the most user-friendly backup plugins which helps you to take complete backup including your WordPress database, media library, theme files, plugins, and everything else. It allows you to take automated backups as per your schedule, the backups can be taken off-site to your cloud backup (Dropbox, Amazon S3, Rackspace Cloud, FTP, or email). If anything goes wrong BackupBuddy comes with easy restore options so that your WordPress site is up and running in no time. Another useful feature of this plugin is site migration. It allows you to move a WordPress site to another domain or host easily.
SumoMe


SumoMe is one of the best plugins if you are serious about building your email list. It's super easy to use and its features are non-intrusive so that you do not drive visitors out by annoying them.SumoMe plugin is bundled with multiple useful tools like a welcome mat, scroll box, Social share, Image sharer, highlighter, contact form, smart bar, content analytics, and google analytics. It's like a one-stop-shop for useful tools that increase your WordPress site traffic and engagement. Most of its key features are free and if you want advanced customization then you have a paid version. All the tools of this plugin are mobile-friendly. Also, it connects easily with services like Aweber, Campaign Monitor, MailChimp, Hubspot, and many more.
<Sucuri

Sucuri plugin is a complete security solution for your WordPress blog. This plugin gives you peace of mind that your data and WordPress site are protected from malicious attacks. Notable features of the Sucuri plugin are malware removal, scans for malware and hacks, blacklist scanning, and monitoring, block hackers with WordPress site firewall, Advanced denial of service (DDOS) protection, SSL &PCI compliance, 24×7 support, and more. The company has a security team distributed across the globe so that you can get immediate support round the clock. Apart from WordPress Sucuri also supports CMS platforms like Joomla, Drupal, Magento, Net, OsCommerce, Vbulletin, and PhpBB.

AdSanity


Adsanity is easy to use ad management WordPress plugin. It's a light ad rotator plugin that allows users to create and manage ad shows on a WordPress site. Adding an ad is as easy as adding a post. It comes with two custom widgets – one for displaying single ads and one for showing ad groups. You can allow the ads to run for a specific time or for an infinite period (keep running unless you remove them). It also has graphs and stats to help you keep track of ad views and clicks. If you are looking to monetize your WordPress site with multiple adoptions then this is the right plugin for you.

Akismet



Akismet is the best spam protection plugin for WordPress. It is a reputed plugin that automatically checks all comments and filters out that look like spam even before you see them. You can download this plugin by simply signing up with WordPress. (You can create a free account if you do not already have one.)You can choose from the 4 plans basic, plus, backup and enterprise. The basic plan is good enough for most WordPress sites as it allows 50,000 monthly spam checks.  The basic plan allows you to name your price and it's well worth a few dollars.
TablePress



Have you ever tried to create tables in a WordPress site, if don't try as it's very tedious and you will not get very neat-looking tables? To insert tables in WordPress, you will need the TablePress plugin. It allows you to easily create and manage clean tables. You can insert tables in posts, pages,  or text widgets with a simple Shortcode. You have lots of flexibility with table data like editing, sorting, pagination, filtering, and more. Tables can be imported and exported from/to Excel, CSV, HTML, and JSON files.
Contact Form 7



Contact Form 7 is an excellent easy to use simple contact form plugin. With this plugin, you can manage multiple contact forms. If you need a simple contact form that efficiently does your job of sending your messages from your WordPress site visitors. Then this is the right plugin for you. The forms support CAPTCHA, Ajax-powered submitting, Akismet spam filtering, and more. And the icing on the cake is that this plugin does all the job and it's free.  You can consider donating a few dollars as it saves you lots of coding time and money.
WooCommerce



WooCommerce is the plugin you simply cannot miss if you are into e-commerce. It is known as the words best e-commerce plugin for WordPress site and powers more than 30% of all the online stores. It gives full control to store owners and developers. The biggest advantage of WooCommerce is the flexibility and control it offers. You can sell any products, set up different pricing options, free shipping, or shipping rates and it supports most of the leading payment options (credit cards, PayPal, cash on delivery, and more).It's a secure platform where your data is secure and you are under complete control. For more information Contact Us.