Links in PDF not Opening here's the quick solution
If Links in PDF not Opening then You have done the hard work.
And you have just finished writing your e-book in MS word format.
Then you convert it to PDF, and test it.  Conversion is easy, you have many word to pdf conversion software's online. And even word has built in feature to convert to PDF format.
Links in PDF not Opening here's the quick solution
You have converted it to PDF. This PDF has many useful links, but to your surprise the (hyperlinks) links in the PDF are not opening. In the word file you have checked they were working fine.
You are able to see the underline and color of the links but they are not clickable.
You then try to convert the word file to PDF with different converters like nitro or other online converters available but the result is the same.
You can search online and see that this problem is faced by many people, after searching a bit I was able to find a solution for this.
The solution was found within MS Word itself.  The feature to use for the MS Word 2013 and MS Word 2007 are shown as below
MS Word 2013 to PDF conversion
Open the e-book or document which you have created and want to convert to PDF in MS Word 2013.
From File select Export To option.  After that click PDF or XPS, and then save the file.
MS Word 2007 to PDF Conversion
Open the file you want to convert in MS Word 2007.
Go to the Office Orb button on the upper left corner and select Save As option. Then click PDF or XPS. Save the file.
If Links in PDF not Opening So the solution here is that, MS word itself has built-in feature to convert MS Word to PDF and no need to use any other converters. This way the links in the PDFs will work perfectly.
In-case you have lower version of MS Word, you need to find your friends who have MS Word 2007 or 2013 and they can convert the word file to PDF for you, so that the links in PDF work perfectly.
There is one more issue which you might face, if you have links in footer or header. The links are not clickable if you have them in header or footer of the word document. I have searched and found a solution for that as well for you.
Hyperlinks in header and footer
For both MS Word 2007 and 2013, you will need to enable an option. Let's look into this further.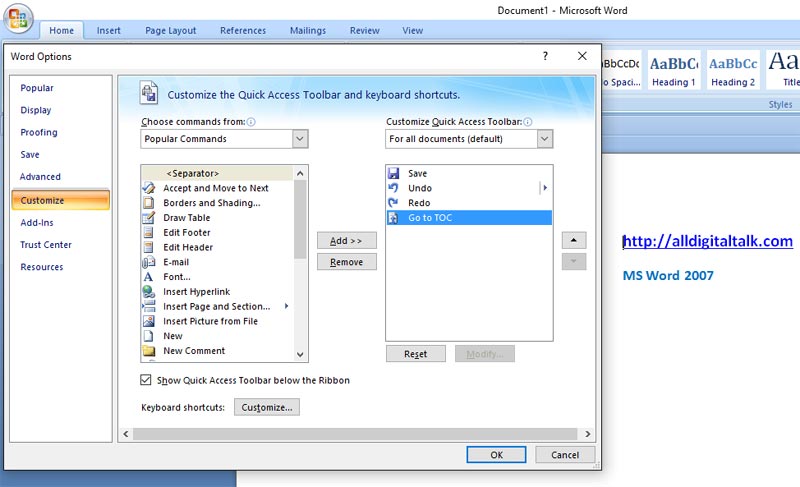 Below are the steps to follow
Open the Office Orb button from the upper right corner.
Select Word Options.
Select
Then select the command Go to TOC and add it to the Quick Access Toolbar.
Press OK.
Links in PDF not Opening Then use the same process above to convert the word file to PDF using PDF or XPS option. The links in header and footer will be clickable and work perfectly fine.
Hence now you have the solution, start creating your cool e-books with links without any issues.  If you have found this article useful do share it with your friends. Also your comments are welcome if you need any further information regarding this.